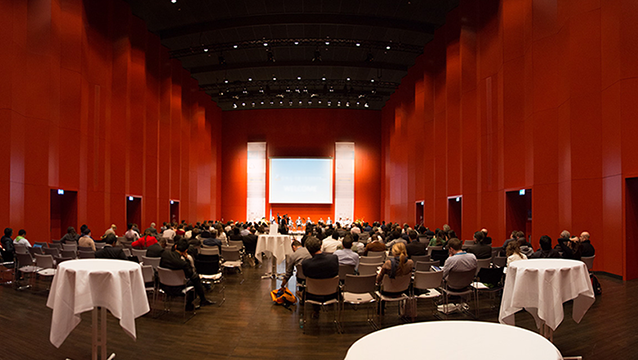 At the core of the Nexus Approach is the captivation with interrelatedness and interdependencies. When we talk about the approach to environmental resources management, we think of the nexus between resources. Another dimension of the nexus under consideration is that between different actors; for example, between scientists and policymakers.
This year's Dresden Nexus Conference (DNC) strives to put the nexus into action by bringing people from different disciplines and sectors together to discuss related issues that are not necessarily dealt with in an integrated manner at present.
During the first plenary on the second day of the biennial conference, Rabi Mohtar (Texas A&M University) moderated a Q&A session after the delivery of keynote speeches by Eugénie Birch (Penn Institute for Urban Research) and Luca Montanarella (European Commission). In her keynote speech, Eugénie Birch addressed the need and hunt for the nexus in order to make cities inclusive, safe, resilient, and sustainable.
"We have found the nexus in the world – it will be up to us, the researchers and the practitioners, to incorporate the Nexus Approach. We know this thinking is innovative and this conference will facilitate it."
– Eugénie Birch, Penn Institute for Urban Research
Addressing the second sub-theme of the conference on Multifunctional Land-Use Systems, Luca Montanarella also emphasised the need for sustainable soil management for achieving the SDGs, which requires that soil scientists look out from the pits they dig and realise the connections between what is beneath the ground and what is beyond.
While the nexus connects people from different disciplines and sectors, learning and knowledge exchange can only really happen through concrete examples. At eight parallel sessions covering Multifunctional Land-Use Systems, Resource Management in Resilient Cities, as well as Cross-thematic Topics, conference participants freely moved between sessions to expose themselves to various examples that lead back to the overarching theme of "SDGs & Nexus Approach: Monitoring and Implementation".
From examples in forestry to urbanisation to assessing resource use in resilient cities, participants are expected to immerse themselves and widen their horizons when thinking of applying the Nexus Approach through the wide range and variety of oral presentations. The subsequent poster sessions reinforced this objective. One running concern is the need for a common language and tools that can be used by different research communities.
In the second plenary, Case Studies from China, Vietnam, and Kenya were presented. Yanhui Wang (Chinese Academy of Forestry), Ngo Trung Hai (Vietnam Institute for Urban and Rural Planning (VIUP)), and John M. Gathenya (Jomo Kenyatta University) each presented respective cases exemplifying the Nexus Approach in multifunctional land-use systems. This was followed by a Q&A Session with expert commenters Rattan Lal (Ohio State University) on monitoring and Ania Grobicki (Ramsar Convention) on implementation as moderated by Nicola Fohrer (Institute for Natural Resource Conservation, Christian-Albrechts-Universität zu Kiel).
While the concrete examples were still quite specific and relevant only for a certain community, the connection to the Sustainable Development Goals (SDGs) through aspects of monitoring and implementation meant that the content is broad and comprehensive enough to engage as many participants. In her commentary, Ania Grobicki praised the high standards and good quality of presentations she had seen at the conference so far, and the passion and commitment in the organisation of the event. While the case studies exemplify nexus solutions, she raised the need to better convey that these solutions exist, in a more impactful manner in order to take such a conference further. To be able to really embody how case studies can be transformed into policies and solutions, she suggested that in future conferences, for every case study, a scientist be paired with a policymaker or an actor who can actually use the research. This creates dialogue and concretely structures the science-policy interface.
Download Day 2: Sessions in a Nutshell here

In line with the goal of engaging participants more and to allow them to personally experience the challenges of nexus implementation, Day 2 of DNC2017 featured a gaming session, which concluded the day's full programme. The International Institute for Applied Systems Analysis (IIASA) convened the Water-Energy Nexus Game, in which participants got the unique opportunity to get insight into managing the water needs of energy production and improve water management to reduce water systems vulnerability. Participants were given various roles in decision making in two countries that share a river. Their goal was to balance water and energy supply with demand. For this to happen though, they needed to effectively collaborate and exchange information between stakeholders within their respective country.
Whether through a simulation game or otherwise, the second day of the Dresden Nexus Conference 2017 reinforced the need for the Nexus Approach in order to arrive at sustainable solutions for our environment, and more importantly, that we do so in a fashion that embodies the very concept.
Related News:
425 Participants, 50 Countries – Dresden Nexus Conference 2017 Opens
DNC Programme Highlights: Case Studies, World Café, Excursions, and More